NMIMS Chandigarh Promotes Social Responsibility with Blood Donation Drive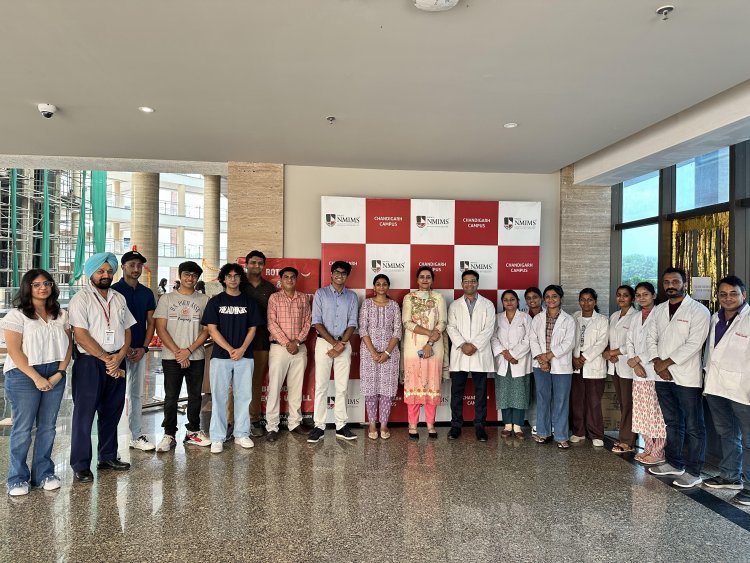 NMIMS Chandigarh Promotes Social Responsibility with Blood Donation Drive
Chandigarh, 05th October 2023: Prayatna, a student-led Social Responsibility Club of the School of Commerce at SVKM's NMIMS Chandigarh, joined hands with Rotary and Blood Bank Society Resource Centre, Sector 37, Chandigarh, to host a highly successful Blood Donation Camp. The event was supported by 60 donors, including faculty, students, and staff.
Dr. Manish Rai, Director of the Rotary and Blood Bank Society, ensured a secure environment and adherence to safe testing protocols. This, combined with NMIMS's professionalism in running the camp, instilled trust among the donors. The event also saw a significant number of first-time donors, showcasing the NMIMS community's dedication towards the noble cause.
The organising committee consisted of third-year Bachelor in Business Administration (BBA) students. Exemplifying teamwork and commitment under the leadership of Maaheen Hassan, and supported by Dhruv Kapoor and Sankalp Saxena, the committee was instrumental in orchestrating the success of the Blood Donation Camp.
Along with providing students with experiences beyond classroom learning, NMIMS is also committed to developing socially responsible corporate leadership. As corporations move towards sustainable corporate governance, Environmental, Social and Governance is the newest trend emerging in the industry. The Blood Donation Camp is one of the several on-campus programs organised by NMIMS Chandigarh to create ESG awareness among students.
Prayatna is a student-led social responsibility club at the NMIMS Chandigarh Campus aimed at community engagement and welfare. Led by passionate students, the organization is dedicated to organizing initiatives that drive positive change and contribute to the betterment of society.
Some of Prayatna's earlier programs are testimony to its unwavering commitment towards ushering a positive impact in society. It had organised a Financial Inclusion camp in collaboration with the State Bank of India in November 2022. The event informed underbanked workers about pivotal government schemes like Pradhan Mantri Jan Dhan Yojana, Pradhan Mantri Suraksha Bima Yojana, Pradhan Mantri Jeevan Jyoti Bima Yojana, and Atal Pension Yojana. The event benefited 80 attendees, with 12 receiving immediate assistance. Similarly, Prayatna conducted an Earth Day plantation drive in April 2022, contributing significantly to environmental conservation efforts.

Commenting on the successful Blood Donation Camp, Dr. Jaskiran Kaur, the Campus Director, NMIMS Chandigarh, said, "NMIMS SOC Chandigarh appreciates the able support of Rotary and Blood Bank Society Resource Centre in ensuring the success of the Blood Donation Camp in our campus. The camp was a humble initiative towards giving back to
society. Such initiatives help us foster social responsibility among students, which is an important part of the learning experience at NMIMS."