History of 28th February | Historical Events of 28th February Today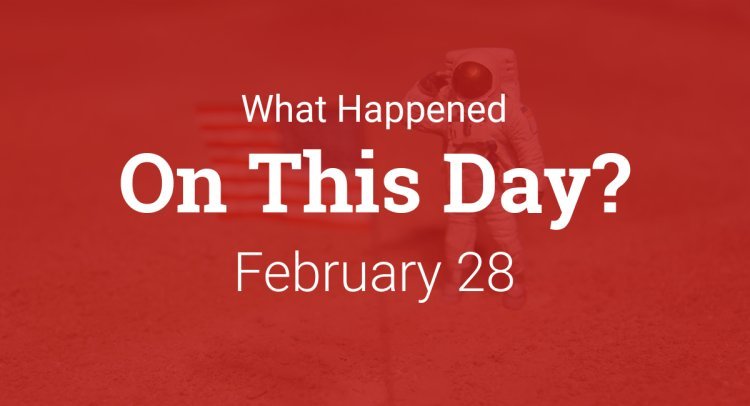 History of 28th February | Historical Events of 28th February Today
Important events on February 28 :
In 1580, the first Christian missionary from Goa came to Akbar's court at Fatehpur Sikri.
Mughal emperor Bahadur Shah I died in Lahore in 1712.
Sir Stamford Raffles discovered Singapore in 1819.
Calcutta Medical College started in 1835 in West Bengal.
America defeated Mexico in 1847 at the Battle of Sacramento.
Amanullah Khan became the emperor of Afghanistan in 1919.
Egypt regained independence from Britain in 1922.
Indian scientist CV Raman invented the "Raman Effect" in 1928, for which he was awarded the Nobel Prize, and this day is celebrated every year as National Science Day.
Kolkata's Howrah Bridge (Rabindra Setu) opened in 1943.
The US conducted a nuclear test in 1975 from the Nevada Test Site.
The world-changing Gulf War ended in 1991 with the surrender of Iraqi security forces.
US and coalition forces declared a ceasefire in Iraq in 1991.
In 1992, the UK and India signed an agreement on cooperation against terrorism.
Denver International Airport opened in 1995 in Colorado, USA.
In 1996, the Clinton administration decided not to supply arms worth $356 million to Pakistan.
Andy Elson and Colleen Prescott of Britain set a world record in 1999 for staying in the sky with the help of a balloon for 233 hours 55 minutes.
The Supreme Court of Portugal allowed the extradition of Abu Salem, an accused in the 2005 Mumbai bomb blasts.
Four Oscars were awarded in 2005 for Million Dollar Baby.
In 2008, there was a peace agreement between the Government of Nepal and the United Madhesi Democratic Front.
Tom Hooper's film "The King's Speech" won the Best Picture award at the 2011 Oscar ceremony held at the Hollywood Kodak Theatre.
People born on February 28 :
Freedom fighter Lala Lajpat Rai was born in 1865.
India's 'First Army Commander in Chief' K.M. Cariappa was born in 1899.
Famous Hindi poet, writer and editor Pandit Narendra Sharma was born in 1913.
Pandit Jasraj, a world-famous singer of Indian classical music, was born in 1930.
Ravindra Jain, a famous composer and singer of Indian Hindi cinema, was born in 1944.
People who died on February 28 :
Rana Uday Singh, ruler of Mewar and father of Maharana Pratap, died in 1572 AD.
Indian Army Officer General Sir Arthur Power Palmer passed away in 1904.
Sohrab Modi, a famous Indian actor, died in 1924.
Kamala Nehru, wife of Jawaharlal Nehru, died in Switzerland in 1936.
Irish poet William Butler Yotes died in 1939.
India's first President Rajendra Prasad died in 1963.
Noted musician O. P. Nayyar passed away in 2007.
Sri Sri Jayendra Saraswati Shankaracharya, head of the Kanchi Kamakoti Peeth, passed away in 2018.