nasscom CoE Brings Together Manufacturing Ecosystem to Discuss Innovative Research Ideas
nasscom Centre of Excellence (CoE), Gandhinagar, a Digital India initiative established with support from the Ministry of Electronics and Information Technology (MeitY) and the Government of Gujarat, hosted the Smart Manufacturing Research Conclave at the Indian Institute of Technology, Gandhinagar, on Friday and Saturday 29, April. Smart Manufacturing Research Conclave The two-day conclave brought together more than 150 key manufacturing leaders, startups, tech SMEs, researchers, government leaders, technical experts, and innovators from the manufacturing ecosystem to discuss innovative research ideas on Industry 4.0 for commercialization opportunities, and demonstration of smart manufacturing solutions. The conclave showcased the top-notch research taking place in the best institutes across the country and made them available to manufacturing leaders and solution providers, for implementation in diverse use cases. The conclave also hosted workshops conducted by professors from multiple IITs on the most relevant topics for the manufacturing community, including AI in production planning, predictive maintenance in manufacturing, the role of computer vision in smart manufacturing, robotics and cobotics, smart machine tools, and more. "The Smart Manufacturing Research Conclave is a platform to bring forth research in the field of smart manufacturing and present it before manufacturers for real-time application. The conclave brought in new approaches to integrate digital technologies, advanced analytics, and intelligent automation to enhance manufacturing processes efficiency, productivity, and sustainability. As a part of the ecosystem, nasscom CoE at Gandhinagar is working towards creating awareness on the application of emerging technologies in various use cases and also connecting manufacturers with solution providers and researchers," said Amit Saluja, Centre Head and Senior Director, nasscom CoE. Prof Rajat Moona, Director, IIT Gandhinagar, said, "As the co-host of Smart Manufacturing Research Conclave, IIT Gandhinagar is proud to collaborate with nasscom CoE in creating an exceptional platform for academics, researchers, and industry experts to discuss the advancements and challenges of Industry 4.0. This event exemplifies our shared commitment to fostering innovation and nurturing talent in smart manufacturing, providing an ideal environment for the exchange of ideas and best practices. Together, we are bridging the gap between academia and industry, driving sustainable and transformative change in the manufacturing landscape." One of the highlights of the event was a session on Zero Defect Zero Effect practices certification, and the extensive efforts by the Ministry of MSME, Government of India in this field. Panel discussions on collaborative industry partnerships for innovation and the future of MSMEs in smart manufacturing were also organised as a part of the conclave. Shirshendu Chattopadhyay, Head of Research And Development at ArcelorMittal Nippon Steel India, said, "We are proud to support the Smart Manufacturing Research Conclave, an event fostering collaboration, innovation, and advancement in the industry. At AM/NS India, we believe that smart manufacturing holds the key to unparalleled efficiency. By bringing together researchers, experts, and industry leaders, this conclave is fostering the exchange of ideas and knowledge and shaping the future of manufacturing for our country." About nasscom nasscom is the premier trade body and chamber of commerce of the Tech industry in India and comprises over 3000 member companies. Our membership spans the entire spectrum of the industry from startups to multinationals and from products to services, Global Capability Centres to Engineering firms. Guided by Indias vision to become a leading digital economy globally, nasscom focuses on accelerating the pace of transformation of the industry to emerge as the preferred enabler for global digital transformation. Its strategic imperatives are to re-skill and up-skill Indias IT workforce to ensure that talent is future-ready in terms of new-age skills, strengthen the innovation quotient across industry verticals, create new market opportunities - both international and domestic, drive policy advocacy to advance innovation and ease of doing business, and build the industry narrative with a focus on Talent, Trust and Innovation. And, in everything we do, we will continue to champion the need for diversity and equal opportunity. About nasscom CoE nasscom CoE is a Digital India initiative led jointly by the Union Ministry of Electronics & Information Technology and Gujarat's Department of Science & Technology. nasscom CoE works closely with manufacturing enterprises, deep-tech start-ups, system integrators, technology companies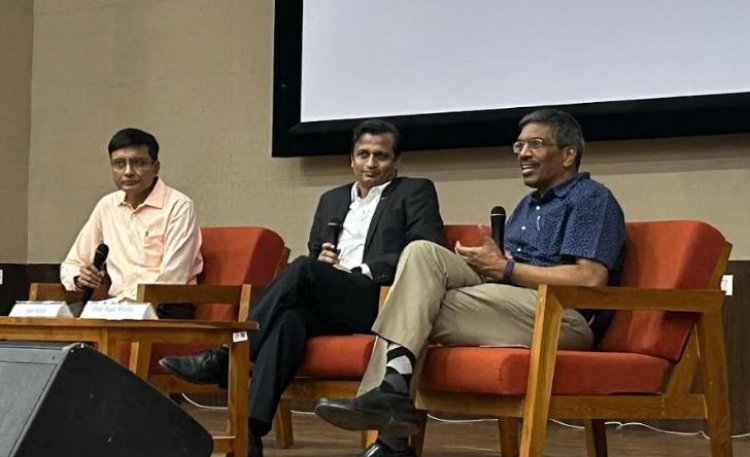 nasscom Centre of Excellence (CoE), Gandhinagar, a Digital India initiative established with support from the Ministry of Electronics and Information Technology (MeitY) and the Government of Gujarat, hosted the Smart Manufacturing Research Conclave at the Indian Institute of Technology, Gandhinagar, on Friday and Saturday 29, April.
Smart Manufacturing Research Conclave
The two-day conclave brought together more than 150 key manufacturing leaders, startups, tech SMEs, researchers, government leaders, technical experts, and innovators from the manufacturing ecosystem to discuss innovative research ideas on Industry 4.0 for commercialization opportunities, and demonstration of smart manufacturing solutions. The conclave showcased the top-notch research taking place in the best institutes across the country and made them available to manufacturing leaders and solution providers, for implementation in diverse use cases.
The conclave also hosted workshops conducted by professors from multiple IITs on the most relevant topics for the manufacturing community, including AI in production planning, predictive maintenance in manufacturing, the role of computer vision in smart manufacturing, robotics and cobotics, smart machine tools, and more.
"The Smart Manufacturing Research Conclave is a platform to bring forth research in the field of smart manufacturing and present it before manufacturers for real-time application. The conclave brought in new approaches to integrate digital technologies, advanced analytics, and intelligent automation to enhance manufacturing processes efficiency, productivity, and sustainability. As a part of the ecosystem, nasscom CoE at Gandhinagar is working towards creating awareness on the application of emerging technologies in various use cases and also connecting manufacturers with solution providers and researchers," said Amit Saluja, Centre Head and Senior Director, nasscom CoE.
Prof Rajat Moona, Director, IIT Gandhinagar, said, "As the co-host of Smart Manufacturing Research Conclave, IIT Gandhinagar is proud to collaborate with nasscom CoE in creating an exceptional platform for academics, researchers, and industry experts to discuss the advancements and challenges of Industry 4.0. This event exemplifies our shared commitment to fostering innovation and nurturing talent in smart manufacturing, providing an ideal environment for the exchange of ideas and best practices. Together, we are bridging the gap between academia and industry, driving sustainable and transformative change in the manufacturing landscape."
One of the highlights of the event was a session on Zero Defect Zero Effect practices certification, and the extensive efforts by the Ministry of MSME, Government of India in this field. Panel discussions on collaborative industry partnerships for innovation and the future of MSMEs in smart manufacturing were also organised as a part of the conclave.
Shirshendu Chattopadhyay, Head of Research And Development at ArcelorMittal Nippon Steel India, said, "We are proud to support the Smart Manufacturing Research Conclave, an event fostering collaboration, innovation, and advancement in the industry. At AM/NS India, we believe that smart manufacturing holds the key to unparalleled efficiency. By bringing together researchers, experts, and industry leaders, this conclave is fostering the exchange of ideas and knowledge and shaping the future of manufacturing for our country."
About nasscom
nasscom is the premier trade body and chamber of commerce of the Tech industry in India and comprises over 3000 member companies. Our membership spans the entire spectrum of the industry from startups to multinationals and from products to services, Global Capability Centres to Engineering firms.
Guided by Indias vision to become a leading digital economy globally, nasscom focuses on accelerating the pace of transformation of the industry to emerge as the preferred enabler for global digital transformation. Its strategic imperatives are to re-skill and up-skill Indias IT workforce to ensure that talent is future-ready in terms of new-age skills, strengthen the innovation quotient across industry verticals, create new market opportunities - both international and domestic, drive policy advocacy to advance innovation and ease of doing business, and build the industry narrative with a focus on Talent, Trust and Innovation. And, in everything we do, we will continue to champion the need for diversity and equal opportunity.
About nasscom CoE
nasscom CoE is a Digital India initiative led jointly by the Union Ministry of Electronics & Information Technology and Gujarat's Department of Science & Technology. nasscom CoE works closely with manufacturing enterprises, deep-tech start-ups, system integrators, technology companies, academia, research organizations, and government.