GL Bajaj Educational Institutions Takes Part in the India International Education Expo 2023
GL Bajaj Educational Institutions, a renowned and eminent Institute situated in Greater Noida and Mathura is taking part in one of the biggest Educational Expo 'India International Education Expo 2023' (IIEE 2023), an international exhibition, conference & awards scheduled from 28th April to 30th April 2023. School students learning about the high-tech robot at GL Bajaj exhibition space during India International Education Expo 2023 GL Bajaj Educational Institutions will showcase numerous highlights at the three-day expo which will include glimpses of GL Bajaj programs, highlights of the success stories of GLBians, the capstone projects taken up by the students, and other milestones. The group has also incorporated robots and robotic kits produced by the students of GL Bajaj Educational Institutions. The group is also showcasing its alumni community along with the research and incubation center. Some of the key alumnus are - Mr. Arpit Varshney, alumnus of GL Bajaj Institute of Technology and Management and Director of SIA Manufacturing Pvt. Ltd. is making a turnover of 70 crore per year, Ms. Kajal Srivastava, Founder, and CEO of Nadipulse Prognostic Pvt. Ltd. showcasing her project at UP Global Investors Summit-2023 to the Prime Minister of India and Chief Minister of UP, Mr. Kushgara Srivastava, another feather in the golden hat of GL Bajaj is Senior Consultant at DHR International in Toronto, Canada. Students will also be able to meet Mr. Alok Tripathi, Co-founder of EVMINDA, who will be demonstrating his electric vehicle, who has also been awarded the E- Mobility Award-2022 for Best E-Innovation for electric vehicles. Additionally, students will also be getting a glimpse of GL Bajaj's 33 startups that have been incubated that provide World class technological facilities to students so that they grow and innovate in the right direction. With more than 1000 Faculty members, GL Bajaj has been delivering excellent results and placements every year for more than two decades. The group has 12 institutions that are thriving under the banner with 14,000 students, and 06 campuses which are spread across 300 acres of land. The participation will be exceptional as the Expo is expecting more than 10K+ students from North Indian states. Over the past months, the GL Bajaj campus has hosted many legendary names like American business magnate, Philanthropist, and Investor best known for Co-founding software giant Microsoft, Bill Gates graced GL Bajaj campus with his presence, inspiring students to think out of the box and create world-class solutions that make the life of people simple. He also praised GL Bajaj for promoting entrepreneurship amongst students. Additionally, spiritual leader Sadhguru also visited the institute and inspired the students towards healthy living by making their contribution towards making this planet a safe place to live. The Rocket Man of India Dr. K. Sivan, Former ISRO Chairman also graced the campus as he inaugurated the NVIDIA AI Learning and Research Centre. About GL Bajaj Educational Institutions Incepted in 1997, GL Bajaj Group is a premier group in North India. The group has demonstrated meteoric growth since the beginning, and today, it has become one of the most prestigious educational hubs solely devoted to equip thousands of young students in the array of higher education in diversified fields i.e, Engineering & Technology, Architecture, Management, Pharmacy, Dentistry, Teacher Education, Basic Science & Library Science, and Medical Science. Within a span of more than two decades, the group has established 10 institutions that are thriving under the banner with 14,000 students, 800 faculty members, and 6 campuses which are spread across 300 acres of land. With a firm belief that only professional education has the potential to lay a strong foundation that can result in blissful economic and social changes to the lives of millions, the Rajiv Memorial Academic Welfare Society went about reshaping diligent and dedicated Indian youths in the form of global multifaceted talents through an array of Educational Institutions. Under the leadership of Sh. Pankaj Agarwal, a young and visionary leader, is the vice chairman of the group, GL Bajaj Group envisions being an institute of global excellence for developing professional leaders, technocrats, and entrepreneurs through an innovative & holistic education that empowers nations. The group is on a mission to impart learning through a sound pragmatic approach for societal & global recognition supported by world-class infrastructure, to provide a learning environment that makes students industry ready & inspires them to realise their potential and utilize it for personal and societal development, and to develop an understanding for values, ethics, and professionalism that supports innovation, incubation, an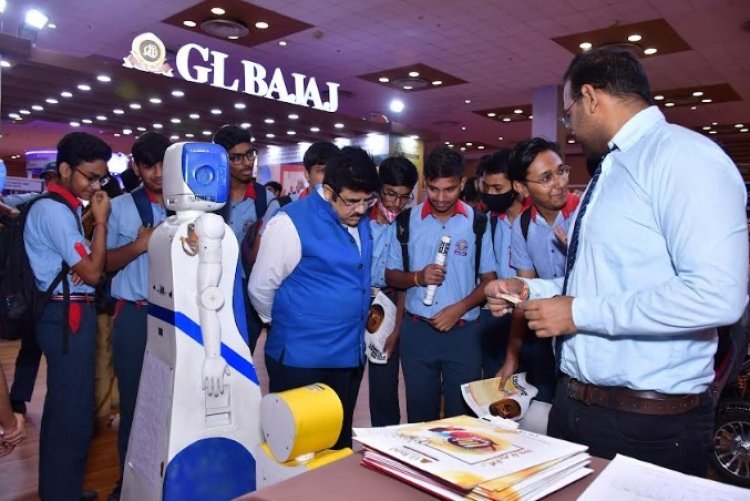 GL Bajaj Educational Institutions, a renowned and eminent Institute situated in Greater Noida and Mathura is taking part in one of the biggest Educational Expo 'India International Education Expo 2023' (IIEE 2023), an international exhibition, conference & awards scheduled from 28th April to 30th April 2023.
School students learning about the high-tech robot at GL Bajaj exhibition space during India International Education Expo 2023
GL Bajaj Educational Institutions will showcase numerous highlights at the three-day expo which will include glimpses of GL Bajaj programs, highlights of the success stories of GLBians, the capstone projects taken up by the students, and other milestones. The group has also incorporated robots and robotic kits produced by the students of GL Bajaj Educational Institutions.
The group is also showcasing its alumni community along with the research and incubation center. Some of the key alumnus are - Mr. Arpit Varshney, alumnus of GL Bajaj Institute of Technology and Management and Director of SIA Manufacturing Pvt. Ltd. is making a turnover of 70 crore per year, Ms. Kajal Srivastava, Founder, and CEO of Nadipulse Prognostic Pvt. Ltd. showcasing her project at UP Global Investors Summit-2023 to the Prime Minister of India and Chief Minister of UP, Mr. Kushgara Srivastava, another feather in the golden hat of GL Bajaj is Senior Consultant at DHR International in Toronto, Canada. Students will also be able to meet Mr. Alok Tripathi, Co-founder of EVMINDA, who will be demonstrating his electric vehicle, who has also been awarded the E- Mobility Award-2022 for Best E-Innovation for electric vehicles. Additionally, students will also be getting a glimpse of GL Bajaj's 33 startups that have been incubated that provide World class technological facilities to students so that they grow and innovate in the right direction.
With more than 1000 Faculty members, GL Bajaj has been delivering excellent results and placements every year for more than two decades. The group has 12 institutions that are thriving under the banner with 14,000 students, and 06 campuses which are spread across 300 acres of land. The participation will be exceptional as the Expo is expecting more than 10K+ students from North Indian states. Over the past months, the GL Bajaj campus has hosted many legendary names like American business magnate, Philanthropist, and Investor best known for Co-founding software giant Microsoft, Bill Gates graced GL Bajaj campus with his presence, inspiring students to think out of the box and create world-class solutions that make the life of people simple. He also praised GL Bajaj for promoting entrepreneurship amongst students. Additionally, spiritual leader Sadhguru also visited the institute and inspired the students towards healthy living by making their contribution towards making this planet a safe place to live. The Rocket Man of India Dr. K. Sivan, Former ISRO Chairman also graced the campus as he inaugurated the NVIDIA AI Learning and Research Centre.
About GL Bajaj Educational Institutions
Incepted in 1997, GL Bajaj Group is a premier group in North India. The group has demonstrated meteoric growth since the beginning, and today, it has become one of the most prestigious educational hubs solely devoted to equip thousands of young students in the array of higher education in diversified fields i.e, Engineering & Technology, Architecture, Management, Pharmacy, Dentistry, Teacher Education, Basic Science & Library Science, and Medical Science. Within a span of more than two decades, the group has established 10 institutions that are thriving under the banner with 14,000 students, 800 faculty members, and 6 campuses which are spread across 300 acres of land.
With a firm belief that only professional education has the potential to lay a strong foundation that can result in blissful economic and social changes to the lives of millions, the Rajiv Memorial Academic Welfare Society went about reshaping diligent and dedicated Indian youths in the form of global multifaceted talents through an array of Educational Institutions.
Under the leadership of Sh. Pankaj Agarwal, a young and visionary leader, is the vice chairman of the group, GL Bajaj Group envisions being an institute of global excellence for developing professional leaders, technocrats, and entrepreneurs through an innovative & holistic education that empowers nations. The group is on a mission to impart learning through a sound pragmatic approach for societal & global recognition supported by world-class infrastructure, to provide a learning environment that makes students industry ready & inspires them to realise their potential and utilize it for personal and societal development, and to develop an understanding for values, ethics, and professionalism that supports innovation, incubation, and entrepreneurship in association with industry.
The GL Bajaj Group is also home to the GL Bajaj Center for Research and Incubation, set up by the GL Bajaj Institute of Technology and Management, Greater Noida. The center aims to promote innovation by providing a platform where innovative ideas are generated to focus on, and entrepreneurship through self-employment and talent utilisation, where innovators are supported and mentored to become successful entrepreneurs. The center has become a Promotion and Acceleration of Young and Aspiring Technology Entrepreneurs (PRAYAS) Centre under the NIDHI-PRAYAS Scheme of the Department of Science and Technology (DST), Govt. of India and has received a Grant of Rs. 3 Crore.